This post is part 1 of what is currently a 3 part series of updates to my SharePoint Framework application customizer as the capability has evolved since entering developer preview in June. Please see the links to parts 2 and 3 below.
---
Back in 2015, I published a post on this blog detailing the steps for implementing a custom site header and footer using a SharePoint-hosted add-in. The add-in contained:
1. An add-in part that provides an interface to configure the text and colors associated with the custom header and footer, storing the necessary values in the property bag of the site.
2. Custom JavaScript that is embedded on every (classic) page through the use of user custom actions that reads the values set by the add-in part from the property bag and renders the header and footer on each page.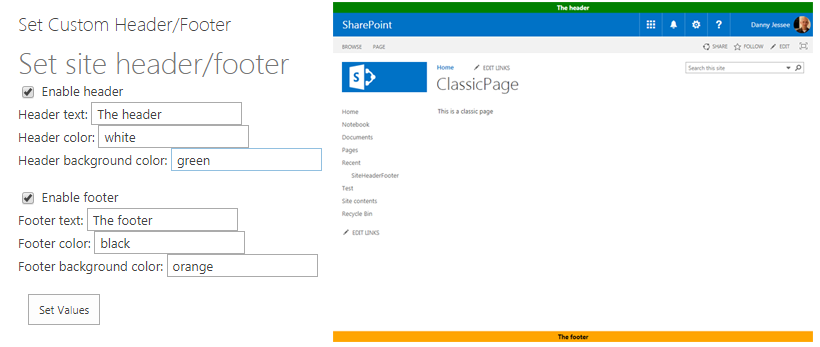 An add-in part is used to display and update the site header and footer configuration information, which is stored in the site property bag. User custom actions are then used to embed the JavaScript that reads this information and renders the header and footer on all (classic) pages within a site.
Issues with current add-in solution
While the add-in solution from that blog post worked great in SharePoint Online in 2015 (and still works great for SharePoint Online classic pages and SharePoint 2013/2016 on-premises today), SharePoint Online has evolved somewhat over the past two years.
Since late 2016, Microsoft has been rolling out new modern page experiences across SharePoint Online. These include new modern team site pages as well as list and library view pages. The technique I used for embedding custom JavaScript on every page–namely, user custom actions–are not supported on modern pages. Therefore, even with the add-in deployed and configured you will not see a header or footer on any modern page. So how are we supposed to customize them?
Enter SharePoint Framework
The SharePoint Framework gives us a new way to deploy JavaScript-based customizations to SharePoint. These include web parts (for both classic and modern pages) and now Extensions such as Application Customizers that allow you to embed JavaScript on modern pages.
To extend the functionality of my SharePoint-hosted add-in to modern pages using the SharePoint Framework, I created a new SharePoint client-side solution containing an application customizer extension to handle the rendering of the header and footer on all modern pages, reading the same configuration values from the site property bag that are set by the add-in part from my original SharePoint-hosted add-in.
Modern pages contain useful placeholders
When creating the original add-in, I had to do some manipulation of the DOM to insert the
elements representing the custom header and footer in the appropriate places on the page using jQuery's .insertBefore() and .insertAfter() methods. These kinds of customizations are fragile and could break if Microsoft changed the IDs or locations of existing page elements I was referencing such as
suiteBarTop
or
s4-bodycontainer
. I was hoping to get away from this in my modern page solution.
To that end, SharePoint Framework Extensions now give us access to page placeholders representing well-known locations on the page where we can more reliably inject our customizations. These include PageHeader and PageFooter. Awesome, right?
Unfortunately, in my initial experiments with page placeholders, I identified some shortcomings that would prevent me from building a complete modern page header/footer solution that leverages them. Most notably, modern site pages do not contain the PageFooter placeholder at all. Also, since my current solution renders the header at the very top of the page, I wasn't a fan of the PageHeader placeholder location beneath the #suiteBarTop
instead of above it at the very top of the page.

SharePoint Framework page placeholders render the PageHeader below the suiteBarTop

and do not render a

PageFooter

on modern site pages, as shown above.

Approach

NOTE: This approach still relies on DOM manipulation and is a fragile and unsupported way to make user interface customizations to modern pages because of dependencies on page elements with specific IDs and CSS classes. In your solutions, please make every effort to leverage the supported page placeholders if possible.

With these limitations in mind and for the sake of a consistent look and feel across all pages (both classic and modern), I decided to stick with my jQuery-based approach of using .insertBefore() and .insertAfter() to inject my custom header and footer at the top and bottom of the page. While investigating the DOM on modern pages to determine where I would need to inject my header and footer, I realized that not all modern pages are created alike. Perhaps this is part of the reason why modern site pages do not contain a PageFooter placeholder…

The

element representing the page content on modern list and library view pages (and the modern Site Contents page) has an ID of

spoAppComponent

. This

does not exist on modern site pages. On modern site pages, the

element representing the page content has a class of

SPPageChrome

.

(NOTE: modern list and library view pages also contain a

with a class of SPPageChrome, but this

does not represent the main content area on those pages.)

Page content areas on a modern list/library view page (left) and a modern site page (right) with the custom header and footer injected around them.

In my code, you will see that I test for the existence of #spoAppComponent on the page. If it exists, I know I'm on a modern list or library view page and I inject the custom header and footer around that

. Otherwise, I add the header and footer around the

with class

SPPageChrome

.

Building the Application Customizer

I followed the step-by-step instructions from the four-part Office Dev Center article series Build your first extension to generate, build, and deploy my application customizer. The following notes may be useful to you:

– If you have already installed a previous version of Microsoft's Yeoman SharePoint Client-side Solution Generator, you will need to update it by running npm update -g @microsoft/generator-sharepoint. The current version of the generator (as of the publishing of this post) is now 1.1.1.

– If you haven't updated your SharePoint Framework development environment in awhile, you may want to run npm update -g to ensure the rest of your global packages are up-to-date as well.

– I added jQuery (npm install –save jquery) and sp-pnp-js (npm install –save sp-pnp-js) to my project and used the PnP JavaScript Core library to simplify the API query for the header and footer configuration values from the site property bag.

– Since I didn't make use of any ClientSideComponentProperties, I removed that attribute from my ./sharepoint/assets/elements.xml file.

– If you download this code, you will need to update the CDN URL in the ./config/write-manifests.json file to match the location where you deploy the assets from the ./temp/deploy folder in your environment. More information about working with the Office 365 CDN may be found here.

– Remember that you must upload the .sppkg file from the ./sharepoint/solution folder to your tenant's app catalog site, then add the associated app on your site. This will provision and activate the feature that deploys the application customizer to your site.

The code

My code is posted to GitHub at the following location:

https://github.com/dannyjessee/SPFxHeaderFooter

I encourage you to download it, try it out in your environment, and let me know if you run into any issues with it. Please keep the following things in mind:

– You must also install the SharePoint-hosted add-in located here in order to configure the header and footer property bag values and render them on classic pages.

– Although the above dependency on my SharePoint-hosted add-in currently exists, it should be possible to move all of these capabilities into a SharePoint Framework solution (i.e., by building a client-side web part to read and write the property bag configuration values and apply the user custom actions to classic pages within the site using the REST API, JSOM, or the PnP JavaScript Core library).

Stay tuned!

This is a very exciting time to be doing modern SharePoint development. SharePoint Framework extensions reached GA in September 2017 and even more new capabilities and options for modern SharePoint customizations are still in the pipeline. Keep an eye on the SharePoint Framework wiki for more announcements and updates!

I have spent the better part of the last two years working with the new app development model for SharePoint 2013. Recently I have focused on building apps that access, manipulate, and interact with data stored in SharePoint Online with Office 365. If you have done any development using the client-side object model (CSOM) for SharePoint, you understand the importance of instantiating the proper ClientContext object to access data in a particular SharePoint site. The ClientContext constructor takes as an argument the URL of a SharePoint site and allows you to access data stored in the Lists collection of the Web associated with it. In this post, I will discuss the various context objects you should use in your provider-hosted app depending on where the data your app needs to access resides and if the user's permissions need to be considered. If you have been developing apps for SharePoint for awhile now (and even if you haven't), I strongly encourage you to use Visual Studio 2013 and the Office Developer Tools for Visual Studio 2013 – March 2014 Update.

Host webs and app webs

When dealing with apps for SharePoint, you will become familiar with host webs and app webs:

Host web – the SharePoint site to which an app is installed
App web – the special isolated site (a unique app web is provisioned for each installation of the app) where the app for SharePoint's internal components and content, such as lists, content types, workflows, and pages, are deployed

Note that a provider-hosted app is not required to have an app web, and in fact may not need one depending on your business requirements.

Your app will always have Full Control permissions to its app web. However, your app will need to request (and be granted) permissions by the user installing your app in order to access data in the host web. This is handled through the app manifest.

If your app needs to access data in the SharePoint site where it is being installed, you will be working with a host web context of some sort. As you will see, there are actually two different host web context objects, depending on the app authorization policy you choose.

Life made easy, thanks to SharePointContext.cs

When you create a new provider-hosted app in Visual Studio 2013, you have the option to create a new ASP.NET Web Forms or MVC application to serve as your app's remote web application. If you are using the Office Developer Tools for Visual Studio 2013 – March 2014 Update, you also have the option to convert an existing ASP.NET web application to an app for SharePoint project (really cool!) In either case, you will notice that SharePointContext.cs is added to the remote web application project. This file contains class definitions for SharePointAcsContext and SharePointHighTrustContext, which allow you to create host web and app web context objects based on whether your trust broker is ACS (which it is with Office 365) or if you are on premises. I won't delve into too much more detail in this post, but Kirk Evans has an outstanding writeup about these classes.

Accessing data in the app web

To access data in the SharePoint app web from your app, use the following pattern:

CSOM (C#)


var spContext = SharePointContextProvider.Current.GetSharePointContext(Context);

using (var clientContext = spContext.CreateUserClientContextForSPAppWeb())
{
    Web web = clientContext.Web;
    clientContext.Load(web);
    clientContext.ExecuteQuery();

    ListCollection lists = web.Lists;
    clientContext.Load(lists);
    clientContext.ExecuteQuery();
}


REST (C#)


var spContext = SharePointContextProvider.Current.GetSharePointContext(Context);
HttpWebRequest listRequest = (HttpWebRequest)HttpWebRequest.Create(spContext.SPAppWebUrl + "/_api/web/lists");
listRequest.Method = "GET";
listRequest.Accept = "application/atom+xml";
listRequest.ContentType = "application/atom+xml;type=entry";
listRequest.Headers.Add("Authorization", "Bearer " + spContext.UserAccessTokenForSPAppWeb);


JSOM


var appweburl = decodeURIComponent(getQueryStringParameter("SPAppWebUrl"));
var clientContext = new SP.ClientContext(appweburl);
var appWeb = clientContext.get_web();
var appWebListColl = appWeb.get_lists();
clientContext.load(appWebListColl);
clientContext.executeQueryAsync(onAppWebGetListSuccess, onError);


Accessing data in the host web

To access data in the SharePoint host web (the SharePoint site where your app is installed) from your app, use the following pattern:

CSOM (C#)


var spContext = SharePointContextProvider.Current.GetSharePointContext(Context);

using (var clientContext = spContext.CreateUserClientContextForSPHost())
{
    Web web = clientContext.Web;
    clientContext.Load(web);
    clientContext.ExecuteQuery();

    ListCollection lists = web.Lists;
    clientContext.Load(lists);
    clientContext.ExecuteQuery();
}


REST (C#)


var spContext = SharePointContextProvider.Current.GetSharePointContext(Context);
HttpWebRequest listRequest = (HttpWebRequest)HttpWebRequest.Create(spContext.SPAppWebUrl + "/_api/web/lists");
listRequest.Method = "GET";
listRequest.Accept = "application/atom+xml";
listRequest.ContentType = "application/atom+xml;type=entry";
listRequest.Headers.Add("Authorization", "Bearer " + spContext.UserAccessTokenForSPHost);


JSOM


var appweburl = decodeURIComponent(getQueryStringParameter("SPAppWebUrl"));
var hostweburl = decodeURIComponent(getQueryStringParameter("SPHostUrl"));
var clientContext = new SP.ClientContext(appweburl);
var factory = new SP.ProxyWebRequestExecutorFactory(appweburl);
clientContext.set_webRequestExecutorFactory(factory);
var appContextSite = new SP.AppContextSite(clientContext, hostweburl);
var hostWeb = appContextSite.get_web();
hostWebListColl = hostWeb.get_lists();
clientContext.load(hostWebListColl);
clientContext.executeQueryAsync(onHostWebGetListSuccess, onJSOMError);


Note that using JSOM, we still need to construct a ClientContext for the app web before we generate an AppContextSite for the host web, made possible through the SP.ProxyWebRequestExecutorFactory.

A note about the app-only authorization policy

By default, authorization checks in the host web succeed only if both the current user and the app have sufficient permissions to perform the action in question, such as reading from or writing to a list. We are reminded that the user's permissions are taken into account based on the names of the context and access token objects we use in these scenarios: for instance, CreateUserClientContextForSPHost and UserAccessTokenForSPHost. However, your app has the ability to do something akin to running with elevated privileges using the app-only policy for authorization. Also controlled through the app manifest, the app-only policy is useful when an app doesn't need or want to consider the permissions of the current user. In Visual Studio 2013, you can specify that your app would like to have the ability to use the app-only policy by checking this box in the AppManifest.xml editor, on the Permissions tab:

That being said, just because your app is granted this permission does not mean that you can use the same host web context or access token as before to automatically leverage it. To access data from the SharePoint host web (taking only your app's permissions into account and ignoring the current user's permissions) from your app, use the following pattern:

CSOM (C#)


var spContext = SharePointContextProvider.Current.GetSharePointContext(Context);

using (var clientContext = spContext.CreateAppOnlyClientContextForSPHost())
{
    Web web = clientContext.Web;
    clientContext.Load(web);
    clientContext.ExecuteQuery();

    ListCollection lists = web.Lists;
    clientContext.Load(lists);
    clientContext.ExecuteQuery();
}


REST (C#)


var spContext = SharePointContextProvider.Current.GetSharePointContext(Context);
HttpWebRequest listRequest = (HttpWebRequest)HttpWebRequest.Create(spContext.SPAppWebUrl + "/_api/web/lists");
listRequest.Method = "GET";
listRequest.Accept = "application/atom+xml";
listRequest.ContentType = "application/atom+xml;type=entry";
listRequest.Headers.Add("Authorization", "Bearer " + spContext.AppOnlyAccessTokenForSPHost);


Remember that in order to use the app-only policy, your app must request and be granted this permission by the site owner who installs your app. Also note that there is no JSOM example using the app-only policy because apps that do not make OAuth authenticated calls (such as apps that are only JavaScript running in the app web) cannot use the app-only policy.

As you can see, the code you write in each of the above scenarios (accessing data in the app web, host web, or using the app-only authorization policy) is identical except for the method or property you use from the SharePointContext class to get the appropriate context or access token. Understanding these subtle differences is vitally important when making sure your app has the ability to access and manipulate the SharePoint data it needs.